Please call us toll free at 1-800-347-7389
LAMINATING EQUIPMENT
Pouch Laminators & Supplies.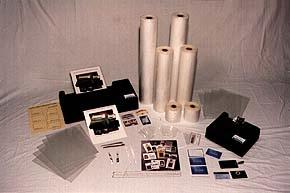 Pouch and Roll Laminators Are Available For Any Size Task.

Equipment Repair For All Makes and Models Of Laminators. (At Your location)
All Sizes Of Laminating Pouches and Laminating Rolls Are In Stock For
Same Day Shipping.
Small And Large Laminating Pouches Are Available In All Sizes And Thicknesses, 3 mil, 5 mil, 7 mil, and 10 mil. (10 mil is the heaviest film).
Accessories: Mylar Strap & Badge Clips/Pins, Plastic Loop Straps, 30" B-B
Chains, Leather Belt Straps & Slot Punches.
ID Cards And Company Identification Systems With Camera And Laminator Will Give Your Company A Professional Image With Little Investment.
home | binders & tabs | binding equipment | laminating equipment | customer login
Corporate Headquarters
4525 Industrial Street
Suite 4K
Simi Valley, CA 93063