Please call us toll free at 1-800-347-7389
CUSTOM BINDERS & INDEX TABS
Custom 3-Ring Binders and Index Tab Dividers.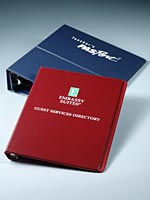 Enhance Your Documents By Customizing 3-Ring Binders and Index Tabs.

Cassette Tape Holders, CD Packaging, and VHS Holders Are All Easily Customized
To Your Specifications.

Silkscreening, Foilstamping, Clear Overlays, and Embossing Are All Among Your Numerous Options For 3-Ring Binders.


High Quality Leather and Imitation Leather 3-Ring Binders With Zippers and Sewn Edges Will Draw Attention Where Desired.
Clear Overlay View Binders Are Stocked In All Sizes and Offer Inexpensive Customizing.
Custom Presentation Pocket Folders Can Be Foilstamped, Printed, and/or Embossed.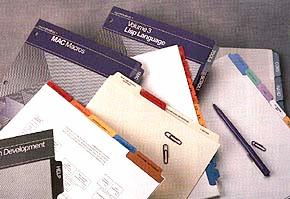 | | | | |
| --- | --- | --- | --- |
| | Alphabetic Tabs A-Z, Numbered Tabs 1-100, and Plain Copier Tabs Are All In Stock. | | Choose From A Variety Of Mylar Colors, Fonts, and Tab Sizes For Your Custom Index Tab Dividers. |
home | binders & tabs | binding equipment | laminating equipment | customer login
Corporate Headquarters
4525 Industrial Street
Suite 4K
Simi Valley, CA 93063